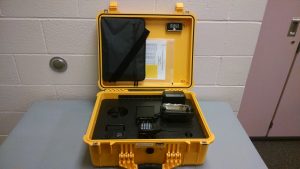 The September 10 ARES Exercise was a great success. We had served agency and field stations scattered around the county sending digital images via SSTV to the county ECC. The two new digital go-kits were tested and worked as planned. Thanks to the 21 ARES members who participated and to Multnomah County Emergency Management staff – Chris Voss, Alice, and Chris from IT – for being on hand to see our testing of this awesome technology. They were quite impressed.
One of the digital kits will be on display at our September 22 meeting so come and take a look.
The September meeting training has been changed to "Building a Go-Kit" and Robert WX5TEX will guide you through the process and equipment needs. He will discuss the basics and show examples of the complex and simple designs that anyone can make. We strongly advise all of our members to have a radio go-kit.
Brian KE7QPV has sent the invitation to participate in the Disaster Relief Trials on October 22. Like Walk MS in the Spring, communications for this event is coordinated by MCARES and we are hoping for a large turn out from our members. This is by far the most fun event to watch as the bike riders have very interesting ways of transporting their cargo. The DRT organizers are very appreciative of our abilities to send field reports back to the finish line so they can keep their scoreboard up to date.
ARES leadership is discussing some changes to our existing team concept. We feel it is important, as we grow, to be innovative in how best to serve our members and the county. Stay tuned for more information that will be coming soon. One change that is very soon to be implemented is a rewrite of the weekly net script. Expect a much shorter, less time consuming check-in process within the next few weeks.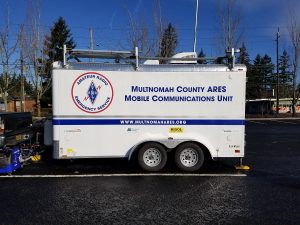 Hallelujah! The ARES trailer now has exterior graphics. This is the final step in the design/build process and we are all thrilled with the result.
On we go to the training segment of the trailer project. Stay tuned for the plan to unfold. We want to make sure all of our members have an opportunity to learn how to set up, operate, and take down our mobile communications unit.