We hope you will attend what promises to be a very interesting ARES general meeting on October 27. Guest speaker Scott Honaker (N7SS – Snohomish County, WA) will be making a first person report of his participation in the Oso, Washington landslide tragedy of March 22, 2014. Scott was the lead for six radio operators during the incident.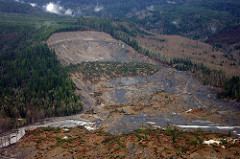 Chris Voss and Alice Busch from Multnomah County Emergency Management will also be attending to present a special award.
Nate Hersey, Multnomah County ARES Emergency Coordinator, will give an overview of the team reorganization and an update on the November 5 statewide ARES Simulated Emergency Test.
The meeting will be held on Thursday, October 27, from 19:00 to 20:30 at the Portland Fire & Rescue Training Center at 4800 NE 122nd Avenue in Portland.