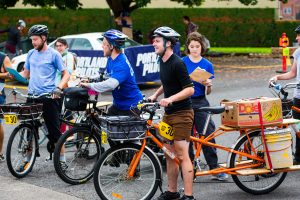 Multnomah County ARES is proud to provide radio communications services for the Disaster Relief Trials Portland for the fifth year in a row. This exciting event is a mixture of bike race, disaster relief exercise, and emergency preparedness fair. The event takes place on Saturday, October 22 from approximately 08:00 to 17:00. The main event will be held at the University Place Hotel in downtown Portland, and there will be several checkpoints scattered around the city.

We would love to have your help with this event! We will need radio operators for net control and logging in the communications trailer, and reporting rider arrival times from the checkpoints. We will be pairing up less experienced operators with more seasoned volunteers, so don't worry if you haven't worked many (or any) events before.
If you would like to participate, please fill out and submit the volunteer registration form so that the communications organizers can best staff the available positions.
UPDATE: Volunteer registration is now closed, to allow the event communications team sufficient time to finalize position assignments and other details before the event.