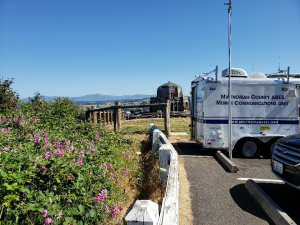 Echo team helped Vista House at Crown Point celebrate its 100 year anniversary by holding a public outreach and training event on July 14. We had an outreach table set up in Vista House with flyers and the orange go-kit, and team members to answer questions and invite folks to tour the MCARES trailer which was in full operation in the parking lot.
The yellow digital kit was set up with another public outreach table under a tree by the river at Rooster Rock State Park just down the hill.
Everyone got a chance to try some image transfer with MMSSTV and to work gateway and peer-to-peer Winlink, so it was a great training exercise as well.
Thanks to Deb KK7DEB for bringing the trailer and handling the training there and to John KI7LYP and Patti KB7GMM for handling the Rooster Rock PR and training. Appreciation also goes to Tom KE7JTM and Ken KI7RUN for helping to coordinate with Vista House and Oregon State Parks. And thanks to all the participating Echo team members who put in a total of 42 volunteer hours on a very hot Saturday!