Summer has arrived with temperatures in the mid to upper 90s. I don't know about you but I miss our more moderate temperatures and a little rain off and on just to keep us looking green. There is a serious fire danger again this summer as our spring rainfall was well below normal. Let's hope we are fortunate and avoid any major forest fires.
In case you missed the last ARES meeting, we are holding our annual raffle with some great items. Tickets are $5 and support our trailer expense fund and also help pay for some of the food for our July 26 Go-Kit Show and Tell and parking lot BBQ. We will sell tickets at the event and the drawing will be later the same evening. Bring your appetite as Nate will be grilling up the beef and garden burgers, and hot dogs again this year. Feel free to bring something to share, but it is certainly not required.
We will all meet and set up in the fire station parking lot east of the usual spot. Bring your go-kits and set up your field station so we can all exchange ideas on radio go-boxes, power sources, portable antennas and masts, shelters, and more. If you don't have a go kit, this a great way to see and hear about the different radio go-kits our very talented members have constructed, and to share ideas. The ARES trailer will be on site just in case you have not seen it yet. We will put up canopies for shade but you should bring a chair so you can sit and enjoy all the activities and food.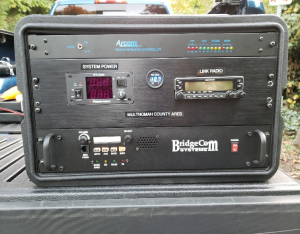 The custom briefcases and clipboards purchased for us by Multnomah County Emergency Management have arrived! If you missed last month's meeting, you can get yours at the July meeting. If you are a new member and have not yet completed your training, we will save yours for you.
The July 28 Shelter in the Parks Drill is just around the corner. We know summer is a busy time for everyone and we appreciate those who have signed up to participate. We will be testing the new portable UHF repeater and continue our training with the digital go kits in the field.
Patti KB7GMM is doing a great job making sure we have some educational content on our weekly ARES net. She would love your suggestions. If you can think of a subject you would like to know more about, or one you would like to present, send her an email at KB7GMM [at] gmail [dot] com.