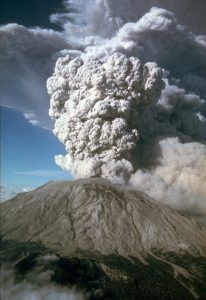 As part of a Geology class at PSU, I finally had the pleasure of making the trip to the north side of Mount St. Helens to study the effects of the 1980 eruption. As a geology "hobbyist" and a member of ARES/RACES, my interest in the eruption is two-fold: how did the eruption occur and how did nearby communities deal with the event? As our luxurious tour bus meandered through the small town of Castle Rock, Washington, I had a moment of foreshadowing: an abandoned cinderblock shack, being overgrown by trees and blackberries with the words "REACT, CH 9″ painted in bright blue.
Our first stop of the day was the Mount St. Helens Visitor Center at Silver Lake, where our visit started off with a 15 minute video of the eruption which focused on 3 of the lives lost in the event: David Johnston, geologist; Harry Truman, resident; and Gerry Martin, ARES radio operator. Although I was exhausted from the early morning adventure, I was jolted awake.
Gerry Martin W6TQF was an amateur radio operator with ARES/RACES, volunteering for the Washington Department of Emergency Services. While geologist David Johnston was monitoring the activity from a ridge six miles to the north of Mount St. Helens on what is now Johnston Ridge, Gerry Martin was on the next ridge two miles to the north using the tactical callsign "Coldwater 2".
"Vancouver, Vancouver, this is it!"
While David Johnston uttered those words which were never heard by the USGS office before his station went silent, Gerry Martin was able to provide a detailed report of the eruption and landslide to the WDES and stated, "The camper and the car just over to the south of me are covered, it's going to get me too". Then silence.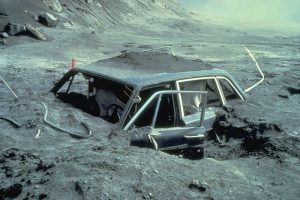 There was a second ham radio operator nearby, Reid Blackburn KA7AMF, who was also a photographer for the Vancouver Columbian, stationed on a ridge even closer to Mount St. Helens. He was never able to get a transmission out.
Throughout the eruption on May 18, a total of 300 Washington ARES volunteers passed over 3,000 messages including both health and welfare traffic and situational information as the lahar decimated the Toutle and Cowlitz river valleys.
I was very glad to see that the story of these volunteers is not forgotten and is still being told at the St. Helens Visitor Center. It also gave me an opportunity to introduce ham radio and ARES to a few classmates.
The Mount St. Helens Visitor Center is located 5 miles off I-5 on Highway 504. They are open seven days a week from 10 AM to 5 PM, and admission is $5.