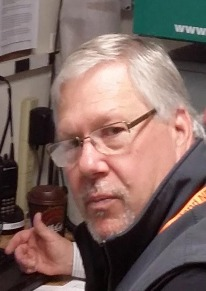 I have been an active member of MCARES since January, 2014. What I most enjoy about ARES is the chance to learn from other members. Manuals only get you so far. Working with more experienced operators speeds the learning process and, frankly, makes it fun. I also enjoy the opportunities to participate in community events and to serve as part of the amateur radio community to plan to meet emergency needs.
I am a member of the MCARES Red Cross served agency team. I have completed the MCARES ARRO certification and am currently working on my Net Control certification. I am also a member of the Portland Amateur Radio Club. I have supported the MS Walk, the Reach the Beach ride, the Portland Bridge Peddle ride, and the Portland Marathon. I lend my radio capabilities to my local Neighborhood Emergency Team serving as the Communications Lead/ARO for the Multnomah Village NET.
I also volunteer with the American Red Cross and the Columbia Slough Watershed Council. Boating has been a life-long avocation, and I draw on this to help the Watershed Council with their canoe excursions on the Slough. You may also encounter me out kayaking our local rivers and lakes.
I hail from Petoskey, Michigan and still visit frequently to see friends and family. Before moving to the Portland area, I lived in Houston, Texas where I worked for Baylor College of Medicine, Memorial Care System, and St. Luke's Episcopal Hospital in the Texas Medical Center. I retired a few years ago from Kaiser Permanente where I worked in Human Resources for nearly 20 years.
Just recently, I agreed to serve MCARES as the Public Information Officer and to contribute articles to our monthly newsletter.