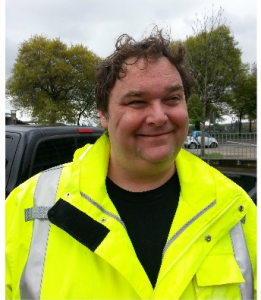 For me the path down the dark side started with two simultaneous events early in 2010. My grandfather passed and a car ran into my house. Hello? The ramifications of this drama were twofold: I inherited my grandfather's HF radio and I became very interested in personal preparedness.
With that motivation, I took the technical and general tests simultaneously and joined the Portland NET program. Quickly I learned about ARES and joined this great organization and have been an active member for about three years now. I'm a real ham. I contest, chase DX, am serious about Field Day and do a lot of experimentation with digital modes like HF Digital Voice, JT65, and FM satellite work. I've been very active in setting up local RMS gateways at various locations around town and enjoy all the exciting features of modern APRS functionality. I enjoy learning new things, technical things, but I tend to get bored with something after I've figured it out. I'm often reading about the next cool thing it seems like…
In real life I'm a long time IT manager, a Portland native, and I live in a nice little house in the Alameda neighborhood. All my family is here in town or up the hill in Sandy (a mixed blessing) and I have 12 nieces and nephews, which seems insane when I say it like that. Christmas is complete chaos these days.