The Echo/Bravo Team Drill on Saturday, March 11 went very well. The Bravo Team operated with three team members and Matthew, team leader, at the PBEM ECC and a three member field team simulating a shelter. Special thanks to Joe WA7FWC from the Charlie Team for heading up the field team and teaching the three Bravo team members how to operate the digital go kit.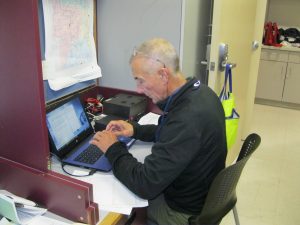 The Echo Team had two members plus myself at the Gresham EOC and two members at Gresham Fire Station 74. This was the first time we have operated Winlink from a fire station. Joel N7LF ran net control from the trailer. All three Echo locations had some equipment difficulties but we managed to solve or work around the issues and got the job done as planned.
I was very pleased to see how well everyone did with message and station logs! Nice job! I will point out that each station should only log the messages they send or receive at that station, not every message handled in the entire drill.