The ARES Trailer interior is finally complete! Yet to be completed is the exterior graphics. Adam KF7LJH and I have had it out the last two weekends to test the equipment and set up. We are working out a few bugs, but for the most part all systems are good to go.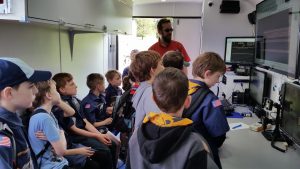 Last weekend Robert WX5TEX, Steve W7SRH, John KF7ZWX, Tom KE7JTM, Adam and I operated at Fort Vancouver National Historic Site. We registered with ARRL as an NPOTA (National Parks On The Air) station with event call W7A. We made over 75 contacts including the Czech Republic, Manitoba and Florida on 20 meters. We had several people stop by to see what we were about including a Cub Scout troop. Each scout got on the air and they were excited to learn about amateur radio technology. It was a great opportunity for outreach, education and recruitment. This was our last testing event and we are ready for full activation in the SET this weekend.
Stay tuned for our trailer completion celebration event. Date and details to be arranged.