What a busy month we have had! Thanks to all who helped Multnomah County Emergency Management by volunteering their time to help support the Eagle Creek Fire response. We had members helping at the EOC in Troutdale and in Corbett for the resident reentry check in point. In all we volunteered over 250 hours. WOW! Great job everyone!
Behind the scenes we also had a team of builders working on the four new digital go-kits. They have been working on Saturdays from the end of August to present. Their mission is almost complete and each of our ARES teams will now have their own digital kit to use in the field. YAY! Thanks to all the kit builders for their hard work and volunteer time.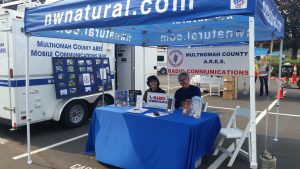 As if that was not enough we also had an Alpha/Echo team drill on September 9 and a couple of outreach events including the Get Ready Gresham event on September 16.
This month goes into the history book as one of our busiest times. The support of our membership has been so awesome. We are so fortunate to have such a great team so willing to help out as needed. We appreciate every one of you.
As we all catch our breath and adjust to the season change I hope many of you will be available for the Fall SET on October 15. This is a really great opportunity to hone our radio skills.
Save