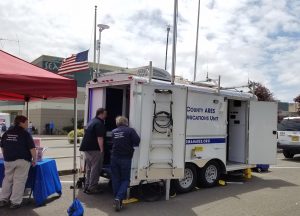 The ARES trailer made its second appearance at Sea-Pac this month. Thanks to all of our members who joined the outreach effort. We were all certainly very busy giving trailer tours and talking with other hams. Brian's HSMM display was also very popular. One fellow, who recently moved to Oregon from Eastern Washington, told me he wished he had moved to Multnomah County as the trailer is "really awesome." Many other groups expressed interest because they too are working on building a mobile Communications trailer. It is so much fun to share our trailer building experience with others!
A special thanks to Multnomah County Emergency Management for funding four additional digital go-kits. The ordering is underway and once everything is gathered together we will build these new kits.
ARRL Field Day is coming on June 24 and 25. We hope everyone will stop by either Portland Amateur Radio Club at Kelly Butte in Portland or Hoodview Amateur Radio Club up on Larch Mountain. It will be a great opportunity to get on the air and make some contacts. Both of these clubs put on a great display of many different antennas and operating modes.