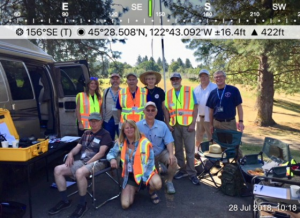 Thanks to everyone who participated in the July 28 "Shelters in the Park' exercise. In all we had 38 AROs operating outdoors from 11 local parks. The Mike team was net control from Westmoreland Park and the new portable UHF repeater was set up at Council Crest Park keeping us all connected. All of the teams sent Winlink messages to the County EOC and to our shelter coordinator at the ARES trailer. The County EOC team also coordinated and received SSTV images from the field. The focus of this exercise was to continue to train on the yellow digital go kits and to test the range of the portable UHF repeater from the Council Crest location.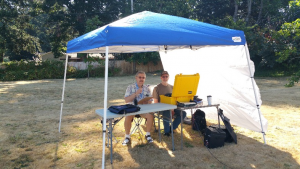 We did learn a few things. As awesome as the elevation is at Council Crest, our Echo team was not able to make contact from Fairview City Park. They were successful from Gresham at Bella Vista Park which is located on top of a hill at 410 feet. The Delta team signal was pretty scratchy from St. Johns Park but was much improved when they moved east to Kenton Park. The Alpha, Bravo, Charlie and Mike teams were very clear into the portable repeater from all of their parks. All of this testing really helps to expand our capabilities and evaluate the best location for the repeater. We will try several different locations in the future.
There was also great feedback from the field that this was a fun and worthy team building exercise. Our newer members got a lot of hands on experience and we had suggestions on needed improvements to the drill guide.
Be sure to attend the August 23 ARES meeting to learn more about the portable repeater and the 2 small cross-band/digipeater kits. Adam KF7LJH will be showing them to you and talking about their amazing capabilities.