It's hard to believe that a year has already passed since we began our campaign to build an emergency communications trailer. Last October, in partnership with the Portland Amateur Radio Club, Multnomah County ARES launched a fundraising campaign to raise $20,000 to buy a cargo trailer and convert it into a mobile radio station that would be used for disaster relief, drills, education, and public outreach. Through a combination of an Indiegogo campaign, raffles, generous individuals and organizations – and a lot of gumption – we were able to purchase a 7×14-foot trailer that is quickly becoming an incredible communications and education asset.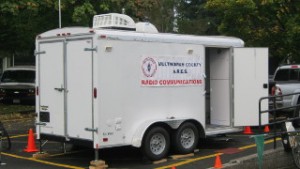 We would like to extend our gratitude to everyone who has donated both financially and with their talents to help make this project become a reality. Thanks to the craftsmanship of our members we've completed the flooring, walls and insulation, electrical wiring, and the cabinetry and work surfaces. And as of this writing, the AC and DC infrastructure is at 80% and getting dialed in. Lighting, ceiling, and graphics are in the near future.
We were awarded a grant from the state which will fund much of the radio equipment, including three VHF/UHF radios for voice and digital communications, an HF radio, generators, and more. In addition to this generous grant, we have also received donations from several corporations whom we would like to thank, including Repeaterbook.com, Tigertronics, Kantronics, DX Engineering, RIGOL, Home Depot, Ubiquity, Cisco, and Cradlepoint. That list is still growing every day.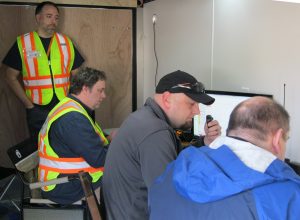 Throughout its construction, the trailer has been constantly field tested through drills and public events including Walk MS, the Spring SET, and most recently, the Disaster Relief Trials. For this event, we utilized the trailer for net control and digital operations to provide race participant updates for the DRT staff. We were able to refine the trailer's design from what we learned. Its most interesting test was an outing to a campground in the Mount Hood Wilderness to practice HF operation as well as analyze how best to operate remotely and independently from luxuries such as electricity and running water.
We're hoping to have phase one of the trailer project complete in the first part of 2016. We also have a few "Phase 2" goals, including solar capabilities, which will be useful in making the trailer more resilient and functional, but we'll need the continued support of the community to achieve these goals.
Please stay tuned for further updates on this project, and feel free to contact us with any questions and comments you have.