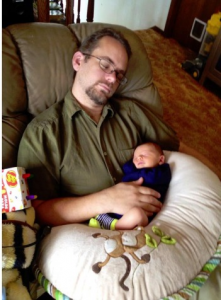 Welcome to our newest members, Gregory KD7KBR, Will KG7LPW, and Susan KG6MJR, and congratulations to Julie KF7TAU for her upgrade to Extra Class.
Congratulations to Robert WX5TEX and Jenny on the birth of their son, Wyatt, born August 7. Robert is really enjoying his new Daddy role, as you can see in the photo here.
Multnomah County ARES vests and t-shirts are available to all our members. Contact me at dprovo [at] yahoo [dot] com if you wish to make a purchase.