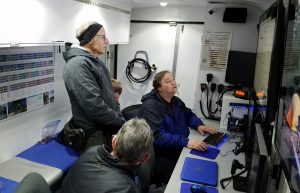 I would like to start out with a big thank you to everyone who participated and volunteered 140 personnel hours to the Fall Simulated Emergency Test (SET).
We successfully executed operations from three stations on Saturday, October 16. Adam KF7LJH and Deb KK7DEB led the operations from the trailer (N7MCU) at Scouter's Mountain. Robert WX5TEX was in charge of the county station at the Donald E. Long Center (JJC). Nathan N9VCU operated from Kelly Butte. Thanks to Metro, Multnomah County, and Portland Bureau of Emergency Management/Portland Parks for providing access to these great locations for our exercise.
Thank you all for taking our safety training seriously, and to Deb and John KI7LYP for procuring the hard hats. Masts were raised at Scouter's Mountain and Kelly Butte. The Kelly Butte mast operation was somewhat different than normal. Normally the masts we use are either the nested push-up style or aluminum style with the large tripod. At Kelly Butte we used a 40ft mast that was assembled to full length on the ground and then raised to the vertical position. We used 7 personnel to achieve this lift, and were able to do so safely. We learned a few things in the process, and I will cover those at the general membership meeting. Potentially another 1,000 feet of line and a come-along may make this a one or two person operation.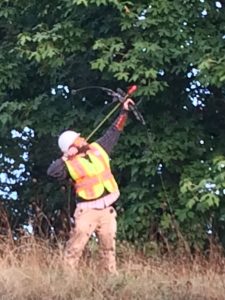 Additionally, Martians were able to make off with the arrow your fearless EC has used to loft antenna lead-lines in the past. This has led me to swear a vendetta against their entire planet. As soon as Elon Musk can provide reasonably priced accommodations, I'll take the fight directly to them.
Voice communications on HF were extremely poor from the JJC. Kelly Butte is a very quiet operating location (low RF noise) and we were able to make some HF contacts. The bulk of Multnomah ARES' operating successes were via Pactor. Although the HF Winlink nodes were busy, the low S/N needed for Pactor to work made a great difference at the power levels we normally run. Kelly Butte also was able to effectively pass NTS traffic through the Metro area. This included the ability to hit many VHF repeaters in neighboring counties. Word on the street is that Lynn Burrell had a grill going in Washington county, making the operators on this side of the hills salivate. Multnomah ARES normally has the grilling game on-point, so I'll avoid letting down our field teams in the future!
Again, thanks to all the operators who made the SET such a great time. I may have had more fun than any drill in the past few years. I'll try to hide the ICS-214 from the Kelly Butte crew from judgmental eyes, as it shows N9VCU cared way more about antennas, masts, and Pactor modems than complete paperwork, but all in all a great success!