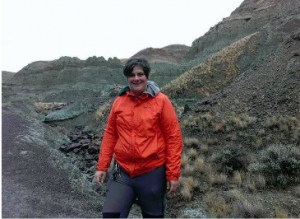 My ham adventures began in December 2012 when I passed my tech exam with an initial goal of getting on the air to do HF. I passed my General ticket the very next month and shortly thereafter made my first DX contact to Lithuania. Not too long after I received my call sign I was in an EMCOM class at PCC and James Bryant came in to give a talk about ARES. I went to the next monthly meeting and the rest is history.
I've been on again off again with electronics in general since I was a wee one, but got back into circuits and things back in 2002ish when I started working on some interactive art projects. Ham radio seemed like a natural progression.
Aside from participating in ARES activities, I like to do Summits on the Air, surf the HF bands when I have the time, and try out all the digital modes I can figure out. I also carry my 2m handheld everywhere, and enjoy making contacts on the road and trails. My goals for the summer are to upgrade to Extra class, and actually design and mail out some contact postcards.
I grew up in the Chicago burbs, and have been in PDX since 2005 after moving here from Brooklyn, NY. After 10 years in web production, web start up life and a short stint as an aquatic ecologist, I've been freelancing in web production and print design for the past 7-odd years.
Last year I returned to school full time. Currently I'm a post-BACC student in Geology with minor in mathematics at PSU and an Emergency Management Cert student at PCC. I originally returned to school to focus on volcanology and volcanic hazard & landslide mitigation, but I recently fell down a geodynamics worm hole, so who knows where I'll end up next.
Aside from school, I'm also a staff member of the Experimental Film Fest Portland. We just put on our 3rd successful festival and were awarded a Precipice grant this year from PICA and the Andy Warhol Foundation. In the minuscule amount of free time I have left I do experimental animation, hike, camp, bicycle and otherwise enjoy adventure time in the land between art and science. I've lived off rapidly changing NE Alberta Street for the past seven years with my partner and our two cats. As you may imagine the weed jungle around our house is substantial!