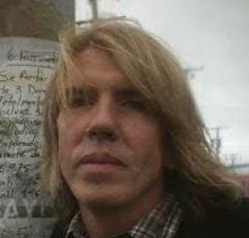 Hello everyone! I'm John (KG7JKN). I am 52 and live in NE Portland with my wife, son, dog, and a 16 year old cat who somehow just found her way into our lives. I'm currently a graduate student of public administration at USC. I am also actively pursuing coursework and work experience that will lead to my becoming a Certified Emergency Manager.
I am originally from the east coast and moved here to Oregon from Woodstock, NY with my family about 15 years ago. Workwise, I have had a wide and interesting (to me at least) array of experience. My first real job was building mixing boards for Dallas Music Industries, who are the same people who made the legendary "Mellotron" tape loop keyboard. A lot of bands in the 60s and 70s used them, including David Bowie, Yes, and Heart. From there, I went on to be a baker, short order cook, construction contractor, heavy suspension mechanic, and (my favorite job) industrial blacksmith. After years of blacksmithing, my back couldn't take it anymore, so I ended up going to college at age 34, earning associate degrees in design and geology. In 1998, I met a guy with a great idea for selling independent musicians' music online, so ended up taking a long break from college to help him build that business. We moved the business out here to Portland in the year 2000 and I eventually went back to school, getting a BS in social science and liberal studies. I began my studies at USC in 2013 and left the business shortly after to pursue my MPA and emergency management studies.
My connection to Ham radio comes from when I was very young. My older brother, Mike KA2MSL, and I "discovered" shortwave radio when we were kids. I remember being fascinated with hearing voices from the far reaches of the planet. Mike went on to become an openly obsessed electronics and radio aficionado and while I would help him out by climbing trees and towers to string up his latest antenna array, I decided to follow a different path, learning to play guitar and playing in various rock bands up into my 30s. When I began taking FEMA courses online and eventually came across information about Portland NET, I also started noticing that old familiar standby, ham radio, waiting in the background and realized I was in familiar territory. I finally signed up for the NET classes in winter of 2014 and ended up becoming friends with Marino KG7EMV who was in the same class. He encouraged me to at least get my ham ticket and to consider looking into ARES if I really wanted to learn more about radio and emergency communications. On Marino's suggestion, I purchased an inexpensive Baofeng HT and tested for my technician's license. After some nudging from Adam KF7LJH who is a member of my NET team, I finally came into an ARES meeting. As others have said, the spread of skills and personalities in this group is impressive if not intimidating at times and I am really happy to be a part of it.
At this point, I am an ARO for the Beaumont-Alameda/Wilshire NET, the Portland NET representative to the LEPC (Local Emergency Planning Committee), and I am just taking over the duties as information coordinator for the LEPC. I am also looking for other paid and volunteer opportunities in the EM field to enhance and bolster my education. I love being able to help people out and I consider the work ARES does as a critical part of our overall security. While I hope we never have to face a large earthquake or other devastating disaster, having experienced the impact of tornadoes and hurricanes I am confident that when all else fails, the excellent training and support we receive as ARES/RACES members will help us as we help others make it through the storm.