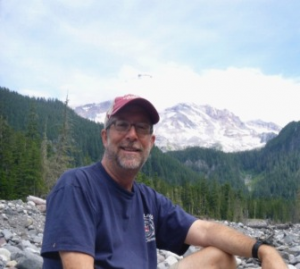 Hello. My name is Bruce Harris and I am the Web Manager and Public Information Officer for Multnomah County ARES.
I have lived in Portland for 36 years. I live with my wife and daughter in NE Portland with our pup, Beau. We are all avid Timbers Fans and I like to ski, hike, travel and cook. I am a life long Buddhist. I own my own business in graphic arts and it has kept me very busy. In the last year I have had to reduce my volunteer activities.
It looks like I will be able to start to resume my ARES activities in the next month and I am looking forward to that very much. I come from a family of volunteers. I have been a volunteer Firefighter and EMT and eight members of my family are now or have been involved with volunteer first response for 35 years.
I started my ECOMM path back in 2003 when I took the City of Portland Neighborhood Emergency Team training. After taking the training I worked with my neighborhood team and another neighborhood team on using FRS/GMRS radios within our neighborhoods. It become apparent that we needed a way to communicate outside of neighborhoods.
At about that time I was involved in CERT-NET Rodeo (skills drill) sponsored by Washington County. During the drills all of the communications were going through Washington County ARES volunteer radio operators and I approached them and asked how to get involved. They said the first thing I needed to do was get my Amateur Radio license. So I went to Powell's and bought the Technician study book and in 3 weeks of self study I was ready to take the test for my license.
About a month after that I found out about Multnomah County ARES and attended my first meeting. During the first year I received my General license. We were a pretty small group of people, then about six years ago the group really started to grow with the hard work of our leadership. My main interest in ARES is field work. I like to be outside using my radio. I also am very interested in the use of digital over radio communications applied to tactical uses. I have volunteered in pretty much every local event from the Portland Marathon to Hood to Coast. In that first year, I took the FEMA Public Information Officer class. At the time only 12 ARES County Public Information Officers in the country had taken the training. I also have taken the ARRL Public Information Officer Training. The Public Information Officer for any ARES group has two main responsibilities. The first, to convey any and all necessary information to the Public in a concise, accurate and timely manner so that the EC, leadership, and volunteers can spend their time fulfilling their duties. And second, to promote awareness of ARES in the community and its mission of citizen emergency communicators helping our served agencies fulfilling their response in any event.