Thanks to all who participated in last month's team drill. Delta Team operated from Nate's home in North Portland. Charlie Team operated from Lewis and Clark College, one of our served agencies, in Southwest Portland. I think it's safe to say that we all learned from the experience. After all, that's what drills are for.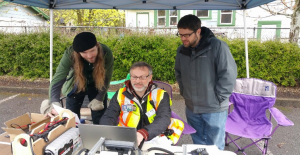 This was, by design, a very laid back exercise. Our goals included the sending of Winlink, SSTV image transfer, and voice traffic. We had no emergency scenario and no pre-written messages. We were focusing on systems practice. We made things up on the spot and sent things along.
Some of the challenges we faced were due, in part, to the introduction of some unfamiliar equipment into the mix. If you have to swap out a computer (for SSTV) that you thought was going to work fine but didn't, for one that had an unfamiliar set of applications, the learning curve can be a challenge and cause a domino effect on the whole process of getting the image passed through the system. We had several challenges like this. A surprise development was that were unable to make VHF simplex contact between the two stations. The reason for this is not entirely clear but most likely due to line of sight issues. When the VHF Winlink set up didn't work the way we thought it would, we switched to HF/Pactor and accessed a station on 17 meters. Good job Julie! The good news is that the teams were able to improvise and get the job done.
For me the biggest take away was realizing that things don't always go as one expects them to. Stay focused and have confidence in the team to solve the issues.
Again, thanks to all who helped with the drill.