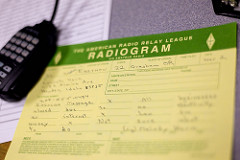 Good traffic handling skills are key to our role as emergency communicators. For this month's training we will have a brief review of traffic handling techniques, and then we'll break into small groups to practice sending, copying, and logging ICS 213 and NTS Radiogram messages. Multnomah County ARES members and Portland NET radio operators are highly encouraged to attend this training.
Please join us for our May general membership meeting on Thursday, May 25 at the Portland Fire and Rescue training center at 4800 NE 122nd Ave in Portland. There will be a Q&A session and informal gathering for new members from 18:15 to 19:00. The main meeting will run from 19:00 to 21:00. Everyone is welcome!
Additional information about our monthly meetings can be found on the meeting page.