The 2017 HF Campout was at the Aquila Vista campground this year, part of the Molalla River Recreation Area – a mix of impressive river vistas and comforting NW forest canopy. It was also pleasantly bear-free. Thank you Robert WX5TEX for all your work planning the trip and Deb KK7DEB for bringing pretty much everything.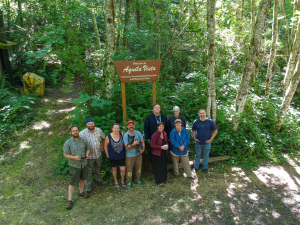 More than 15 hams participated this year and we had at least seven different HF setups roll through the camp over the weekend. Wire dipoles, stick dipoles and magnetic loop antennas we're all setup at various times as were a few Icom and Yaesu radios. But we should have called this the Elecraft-sponsored ARES HF Campout this year. The entire model line made an appearance at one point, including most of the accessories, between all the various radio kits on display. It was impressive; those radios are amazing!
The food, often the best part of the whole campout, was great again this year and there was enough space for the number of campers we had. Getting the trailer up to the site was a real challenge though. The last mile to the camp was double track at best and laughably steep in sections. We weren't sure how it was going to go, but not only did Deb and her sturdy new truck easily pull the ARES trailer up this 4×4 only road, the trailer's interior didn't shake apart either. It was a rugged field test of the trailer and it was up to the task.
We're already thinking about next year's HF Campout which will be at Champoeg State Park. This park is accessible by any vehicle. We will be looking at a group site that has RV sites, electricity, flush toilets and showers. It will be either the last weekend in July or the first weekend in August. Dates will be confirmed this fall.