2017 has already been a busy time for MCARES outreach. Here's a quick look at what's been happening.
Fix-It Fair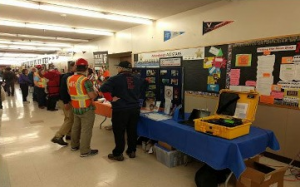 On January 28, Adam KF7LJH and I staffed a Fix-It Fair event at George Middle School. We estimate that several hundred people were in attendance!
One of the primary reasons for attending these types of events is to recruit new ARES members. We had the good fortune to be set up right next to our partners from Portland NET. There was a steady stream of folks interested in learning what we do to support Multnomah County. Conversations with a number of attendees may well lead to some new members.
We introduced two new twists to this event. Adam demonstrated a digital go-kit, which proved to be a big draw to our display. We also brought along a continuous loop slide presentation, featuring many of you at past MCARES events. Our slide presentation needs a little more work, but it provided a great source of activity at our table.
There were over 60 different organizations represented at this Fix-It Fair. Learn more about Fix-It Fairs!
PacTrust Presentation
On February 16, Joe WA7FWC, Eli W7ELI, and I made a presentation to about 35 employees of PacTrust. PacTrust is one of the Pacific Northwest's largest real estate developers and investment property owners. We were invited to talk about the MCARES organization and how we support the emergency communications infrastructure. Joe also demonstrated both image transfer and Winlink messaging.
Looking Ahead
Our next scheduled outreach event will be on Saturday, February 25. Rolf KI4HOP, Bob N6ZKL, and I will provide a MCARES presence at the Overlook Sustainability Summit. The theme of this event is Putting Preparedness into Action. The event will run from 9:45 AM to 2:00 PM at Beach Elementary School Auditorium at 1710 N Humboldt Street in Portland. If you have some free time that day, stop by and say hello.
If you are interested in helping out at an outreach event, contact Steve W7SRH at hallstr [at] hotmail [dot] com and get on the Outreach Roster. No presentation expertise is required; just come along to learn and share your own experiences with MCARES.