What a beautiful Spring day we had for the 2017 Walk MS. Thanks to all who participated for another successful public service event. The event organizers really appreciate our eyes and ears along the course to keep everyone safe. Multnomah County ARES thanks you too for keeping your radio skills sharp.
This year Tom Mynes from ABJ Drones was able to demonstrate the benefits of streaming live video to the ARES trailer from the drone flying above the Willamette River. We hope to add some of the video and pictures to the ARES website soon. As you can imagine, this has sparked a renewed interest in having an ARES drone. Adam has his thinking cap on to figure a way to raise funds.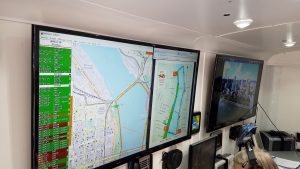 We did have several visitors at the communications trailer and all were very impressed with the live APRS tracking map on one large screen and live drone video on the other. Several ARES members stopped by for their first peek at the trailer.
The Antenna Build Workshop on March 25 was a booming success! We built 30 ladder-line J-pole antennas in under three hours and each participant took one home. It's great to know that many of our members now have a workable portable 2-meter antenna to add to their go-kits. Thanks to those who offered their technical skill and expertise to make this fun event successful.
The Sea-Pac organizers have approved our request, so the trailer will be on display again this year. We are looking forward to showing the completed project this time and hopefully we can rustle up a few new members with our promotional materials. Contact Steve W7SRH (hallstr [at] hotmail [dot] com) if you would like to join the outreach team.
Robert has been in touch with the BLM folks about reserving Aquila Vista for our yearly HF Campout on July 28 and 29. Aquila Vista is available for overnight group camping. The site is located in the heart of the forest next to a large beaver pond. There is plenty of hiking and natural beauty to be seen at Aquila Vista including a small water fall. Amenities include restrooms, a group picnic shelter with multiple picnic tables and a metal fire ring. There is no running water at Aquila Vista, so ensure that you bring plenty of drinking, cooking, and sanitation water. There is no firewood at the site or firewood collection allowed; please bring your own firewood if you wish to have a fire. The campsite is nestled next to a large beaver pond so there can be mosquitoes in the summer – don't forget bug repellent. Dust off your tent and sleeping bag and join in on the fun.