Spring is in the air, which means the start of our busy season for public service events and various simulated emergency tests and field exercises. Walk MS is April 7 and you can visit the volunteer registration form to sign up to help. The Spring SET is April 14. Please contact your team leader to participate. This year we have a new event, Cars for a Cause, which is May 13 and more information will be coming soon about this. MCARES will also be operating its own Field Day event this year at Willamette Park on June 23 and 24. We hope our members will participate in as many events as possible to hone their operating skills, connect with other members, and just have some fun.
Please join us in welcoming Carrie K7CAC who is now the Charlie team leader. You can learn more about Carrie in her featured member profile.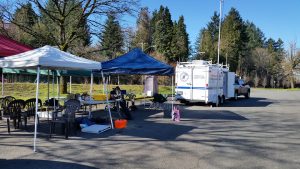 The first team drill of the year was on March 10 and brought together the Charlie and Mike teams. I believed everyone learned a lot and got some operating time with the new digital go-kits. The base camp was at the old armory site on SW Multnomah Blvd. The teams went mobile to various locations, set up the go-kits and reported back simplex to net control at the ARES trailer. John KI7LYP was also on site to show and talk about various mobile antenna and radio suggestions. The weather cooperated with no rain in sight although the wind was a bit pesky for the canopy city field station that was erected.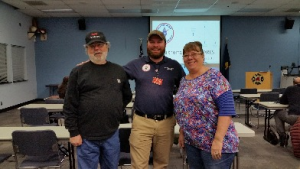 A special thanks to Cory and Jim Schoch for their work on the MOU with Hoodview Amateur Radio Club and MCARES for the use of the MC2 147.280 repeater during an emergency activation. It was a pleasure to work with them and, as a result, we have a fine agreement. It is truly wonderful that we are all on the same page in providing the best emergency communications for our community.