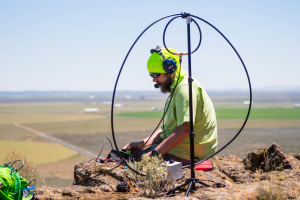 We hope everyone who participated enjoyed Field Day on June 24 and 25. The MCARES trailer was up at Kelly Butte with the Portland Amateur Radio Club for the weekend and there were many visitors despite the nearly 100 degree temperatures. Congratulations to Robert WX5TEX! His picture won the Heil field day photo contest. The picture was taken at Pilot Rock in eastern Oregon. Robert won a Heil pro headset for submitting the winning entry.
This month's ARES meeting on July 27 will be our annual go-kit show and tell. We will be out in the Portland Fire Training Center parking lot with lots of interesting kit ideas and we hope you will bring yours to share with others. Nate will be grilling up the burgers and we encourage everyone to bring a side dish to share. Pop, paper plates, and utensils will also be provided. Bring your own chair to sit and enjoy the great food.
Raffle tickets will be sold at the meeting for the items on display for $5 each. This annual fund raiser for the trailer operating fund helps with the purchase of fuel, insurance, and maintenance. We will have the drawing later in the meeting and some lucky folks will take home some great prizes. You do not need to be present to win, however.
The HF campout is July 28, 29, and 30. Robert reports that several have signed up to spend the weekend at Aquila Vista near Molalla. You are all welcome to come out for the day if camping is not your thing. The trailer will be there and antennas will be hanging in the trees for you to make some HF contacts. It is great fun and a chance to learn in a no pressure atmosphere.